You can use JavaScript to do math like it's a calculator.
Remember that you can use the "show" command to show a number on the screen.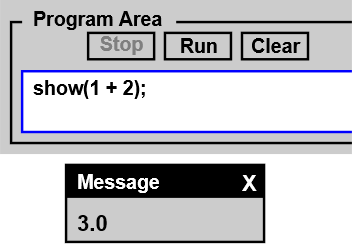 You can add up numbers by writing two numbers and putting a plus sign in-between them. Go ahead and try it on the left.
You can do other types of math by using different symbols. Because there are no "times" or "divide" buttons on the keyboard, you have to use a * or / instead.
You can also put a lot of math on one line and do all the calculations at the same time.
You have to be careful though. JavaScript doesn't do the math from left to right. It uses a special mathematical order.